Introduce
We count all currency in the world
Greetings to all,
I would like to extend my deepest gratitude
to all the customers of Kisan Electronics.
CEO Sanghwan Jang in November 2017 장상환
First meeting with banknote counter in May 1977

After six months of hard work for designing a digital circuit and processing 5mm aluminum for ourselves with reference to a banknote counter discarded by the US military, it was the start of wrestling with a banknote counter to install it at Mokpo Fisheries Cooperative in October of that year.
Development of banknote fitness sorter in January 1995

We started as a pioneer the development of banknote fitness sorter that has relied on 100% imports notwithstanding the worries of people. With the effort of two years, we have developed the 3-pocket K-100 banknote fitness sorter for the first time in Korea and stood tall as manufacture of it in the global market.
Birth of world's first-class product, Newton

Due to the increase in denomination value of money and the development of IT, advanced technology of K-500 5 pocket fitness sorter was compressed according to the need of high-performance banknote counter at the financial institution window and realized in small 2 pocket banknote counter. As a result, 2P Newton has become an internationally popular product with its excellent functions and performance, and we are deeply grateful to customers who have patronized it so that it can be the number one product in the world for many years.
As a specialized banknote processing company, now, Kisan Electronics

has been released all the products ranged from 1 pocket to multi-pocket. It has 10 color images and TMR sensor, and is distinguished in bank note recognition and counterfeit discrimination. We are pleased to be able to provide high value to our customers by building a system for simultaneous launching and service by realizing common discrimination part.
40 years as a specialized banknote processing company

We promise to release banknote ATM and retail products soon. We will communicate with our customers and create the future with creativity, constantly developing the products needed in the market, providing a better future for our customers. We will do our best to be a respected company that fulfills our social responsibilities with the diligence and commitment that we will discern all the banknotes in the world.
"To be a Global Frontier by creating banking
automation products of customer satisfaction."
In 1988, Kisan Electronics Co., Ltd started with small staffs of 5 employees and now has grown internally to small hidden champion of 200 employees. In 1996, we started to produce the wireless call analyzers of initial stage. We developed banknote fitness sorter which had been 100% imported product, only with domestic technologies and components. 
Since then, we have maintained a market share of more than 90%, replacing existing imported machinery. In 2010, Newton product was selected as a world-class product and more than 100,000 units were exported to 40 countries around the world, which has enabled us to find firm position as specialized developer of small and mediumsized banknote fitness sorter. 
Based on accumulated technology for over 30 years and stable domestic market, we have developed DB of more than 100 countries around the world and exported banknote fitness sorter to more than 70 countries in Europe, Russia and Africa. We are also striving to establish a fast, accurate and convenient customer response system through regular global network management and strengthened ties. 
Kisan Electronics is committed to fulfilling customer satisfaction with the world's best technology under the mission of "We read and count all the currencies of the world". 
The largest research manpower in Korea, which accounts for 38% of the total manpower invests 15% of total sales in research and development, responds to rapid technological change and leads the development of financial office equipment through securing core technologies. 
As a global financial partner, we will continue our challenge and growth so that we can provide 100% customer satisfaction by providing total management solution as well as existing middle and small banknote fitness sorter and large financial office equipment through the already proven banknote processing technology and S/W technology convergence.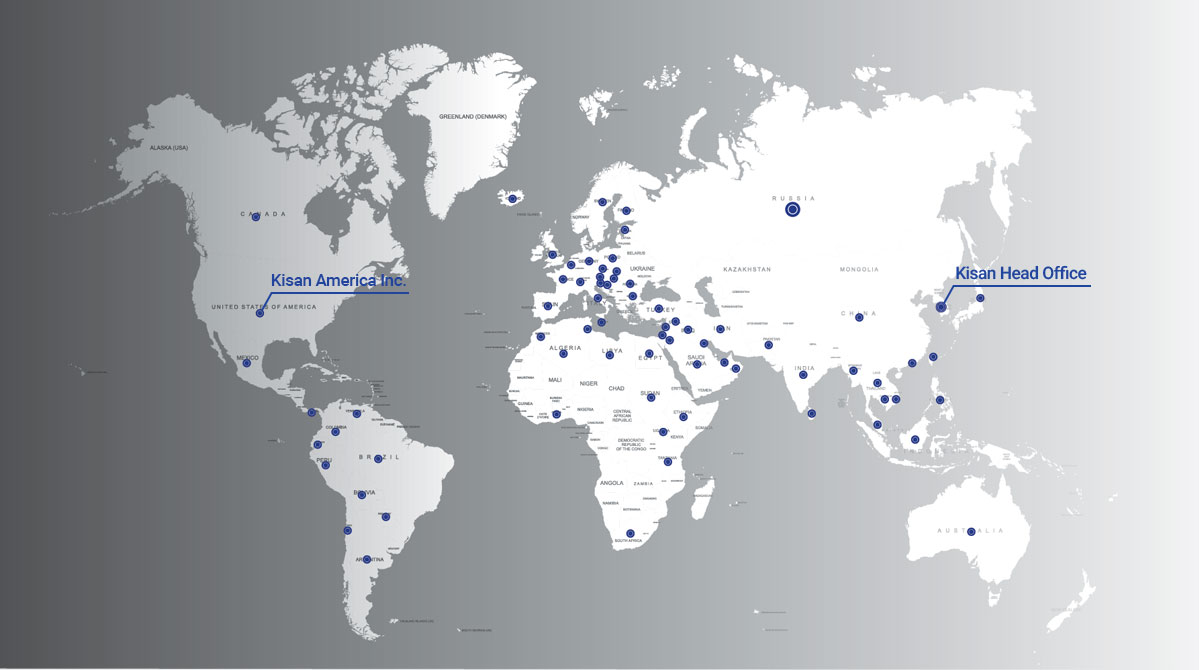 Total 72 countries around the world.
Asia&Oceania 15 countries

North America 2 countries

South America 12 countries