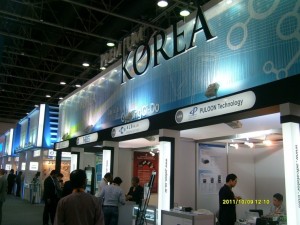 Gitex 2011 was held in Dubai, UAE, from Oct 9~Oct 12 for 5 days.
Approximately 3,370 companies and 130,000 people attended the show.
Not only companies that are known worldwide such as Panasonic, Samsung, Sharp, Extron,
Microsoft, Apple, Ford, Moster bit sounds, many other companies from Asia and Middle East also
participated to the exhibition. Around 40 Korean companies participated to the exhibition as
the first place in the field of IT & Electronics.
Kisan displayed the new model SMART which will be released in 2012, upgraded version of Newton Plus,
and K-500Pro at GITEX 2011, one of the top3 exhibitions in the world, in Dubai. Around 70 companies
and 300 buyers visited Kisan booth. During the exhibition, Kisan received many questions especially
on the new model SMART such as the releasing date, the price and the specification of SMART from
many other foreign buyers showing great interest to the products of Kisan.
Gitex 2011 was a great opportunity to Kisan to go more abroad entering Mid-East and Africa market.
Kisan Electronics is now planning to target the market in Mid-East and Africa looking forward to the positive result.