Business
We count all currency in the world
영문 - 비즈니스
CeBIT 2013 in Hannover, Germany
Admin 2013.03.06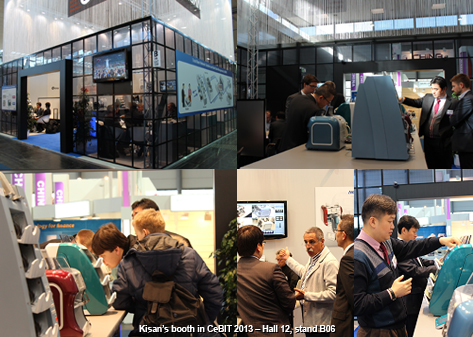 Kisan Electronics has taken 9th booth at CeBIT 2013 in Hannover, Germany since 2005.
The Booth was in Hall 12, Stand B06 and displayed 4+1 pocket banknote sorter 'K-500pro'
,1+1 pocket banknote sorter 'Newton' and 3 pocket banknote sorter 'SMART'.
This year, we changed inside layout the booth to enable more communication and an open atmosphere to the guests.
From time to time some guests who they looked around Cebit for long time without rests
could take a break comfortably with some drinks and snacks in our booth.
More than 4,000 companies from 70 countries took part in CeBIT 2013 including numerous start-ups.
Especially, more than 200 companies with new, creative and powerful ideas presented themselves
in Hannover but there's been a reduction in the size of banking & finance world section including KISAN booth gradually.
Kisan was having a great time with our dealer and it is good opportunity
to meet some new dealer although the size was decreased.