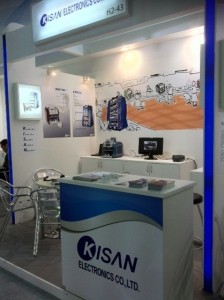 As an annual event in middle-east Asia, Gitex 2012 was held in Dubai, UAE at Dubai International
Convention and Exhibition Center on 14-18 Oct, 2012 for 5 days.
Approximately 3,500 companies from 144 countries and 138,000 people attended the show and
its scale is about 4% bigger than last year.
Kisan Electronics displayed NEWTON and K-500pro only and about 80 buyers visited
our own booth to have a business meeting. Among the visitors was coming 40% from
Middle-East Asia and 60% from Africa and ETC(CIS country).
Especially, it is remarkable to participate European company despite European financial crisis
that they target Middle-East strengths economic stabilization due to export its oil.
However, Gitex rated the visitors level was low as most visitors are paddler,
not developer and just relays goods only.
We expect that Gitex is good chance to look for buyers in new market and acts as a bridge
to enter Mid-East and Africa market.