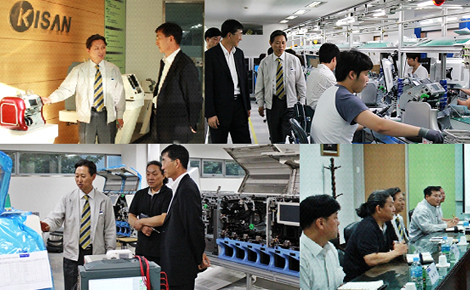 The SMBA administrator, Mr. Jong-Ho Song visited Kisan Electronics on Sep 11,
2012 to hear the difficulties and any proposals from the company which it is
especially small and medium-sized business as like Kisan Electronics.
The Small & Medium Business Administration (SMBA), since its foundation in 1996,
has been in the driver's seat of Korea's SMEs-led innovation for the dynamo of
the national economy.
SMBA has developed and implemented a unique and effective SME promotion system,
combining financing, marketing, technology, business start-up, micro-enterprises,
etc. The SME sector is called as the vital majority, creating most employment and
energizing sustainable growth for the future.
Recently, a lot of guests from government visited Kisan and they interested in Kisan's product.
This is proven that Kisan has an excellent reputation for advanced technology and recognized
as a market leader in the banking equipment field by government.