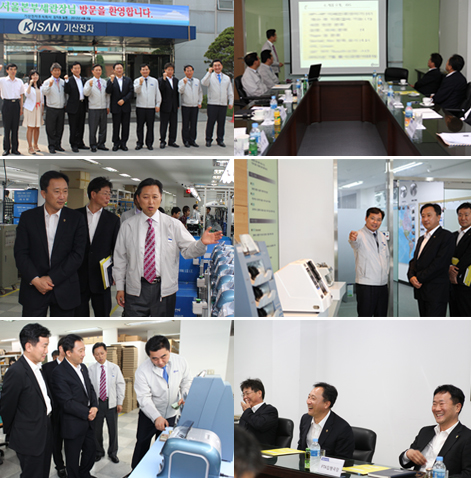 Since Korea-EU FTA was concluded last year, Korea-United States FTA has come
into effect as well in MAR, 2012. FTA(Free Trade Agreement) boost trade relations
between the countries where FTA negotiated each other saving the trade tariff.
Korea has made FTA with about 45 counties including 27 European countries and
is considering negotiating with about 13 counties more for FTA.
In case of Korea-EU & Korea-United States, the company who acquire qualification
from the customs can issue a certificate of origin with authorization number given
by the customs autonomically.
Kisan Electronics has gotten the number (#010-12-100300) from the Korean Customs last year.
In result, Kisan's customers in EU & USA can refund the customs duty with our customs authorization number.
Especially, as Kisan is selected as an outstanding company for FTA use by the Korean
Customs, the Seoul Customs Director Mr. Ki Young Kim visited Kisan office to hear its
the successful story and encourage to use it.
He said, " I do my best to support the companies to understand and use
FTA well having a education on Free Trade Agreement.
Kisan hopes to enlarge FTA with a lot of countries and be win-win for each other.