Business
We count all currency in the world
영문 - 비즈니스
The Global IT CEO award from Korean
Admin 2011.12.09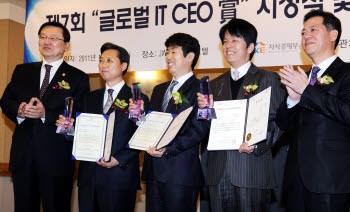 Mr. Jang won the Global IT CEO Award from Ministry of Knowledge Economy (MKE) on Dec 09, 2011.
The Global IT CEO award has recognized by MKE and KOTRA (Korea Trade-Investment Promotion Agency)
to award a prize and spread success story of small & medium sized IT business CEO who their company
succeed globalization through exploitation of the global market.
Kisan Electronics is a manufacturer banknote sorter even counterfeit note and has more than 90% market
share in domestic and export to approximately 70 counties in the world.
Mr.Jang said, " Kisan could grow up through the effort of 150 employees. ",
"We will focus on quality performance and difference of design on our product so that we contribute
to achieve Korea's trade volume of $2 trillion.
In 2011, Kisan has had the good fortune to win the prizes from Korean government and
we believe it is important driving force of growth in the future.